As a follow-up to my previous post about the Office 365 roadmap, I'd like to take a quick minute to promote the "First Release" update for Office 365 which allows you to get access to updates faster than GA (General Availability).
Taking a look in the roadmap under "Rolling out" you can see something called "First Release":
Office 365 continuously delivers product innovations – like new email or collaboration capabilities – as they become available. To help you best manage how you embrace new feature updates to your Office 365 subscription, we give you the choice to either follow our Standard Release process or opted into the First Release program for a select set of significant updates to the service. First Release includes a selection of enhancements to the Office 365 user experience for SharePoint Online and Exchange Online. Tenants that opt into First Release will receive new qualifying feature update a minimum of two weeks before customers on Standard Release
With that quote, it's safe to say (again) that Microsoft is on a mission to create business success and to be more transparent than they have been in the past. I love the new Microsoft. Bring it on!
What is First Release for Office 365?
Simply put, it's a way to get product updates quicker (as they become available) – with the first release option, you can choose what release program you want.
All the information can be found in the admin center, including the difference between the release programs.
First release
With this option, you and your users receive a select set of significant service updates as early as one week after the official announcement. Choose this option if you and your employees are comfortable with regular updates to the Office 365 service
#### Standard release
With this default option, you and your users receive a select set of significant service updates 3 weeks or more after the official announcement. For at least 3 weeks, you have time to learn about the updates and prepare your employees
Release program timeline
For those interested, this is what the release options look like on the timeline:
(Picture from office.microsoft.com)
Enabling First Release in Office 365
If you head on to your admin center for O365 and check out the settings by going to "Service Settings" -> "Updates":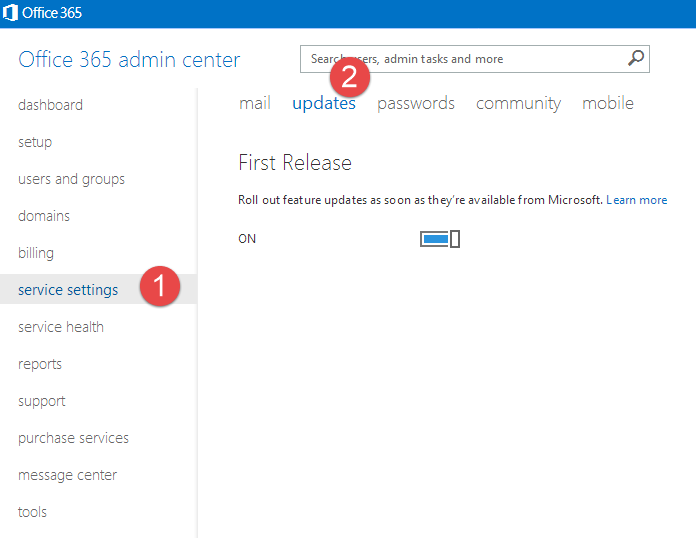 Make sure you switch the First Release on, and then you're good to go – new updates that goes into the first release scope will now be pushed out to your subscription as they become available – at least two weeks before GA.
Want more?
Jake Zborowski talks about Improving visibility to service updates in the Office blog, and also mentions the Continuous Innovation and Change Management with Office 365 which is really great news.
Check it out!