Author: Tobias Zimmergren
www.zimmergren.net | www.sharepointdiscussions.com | www.pointbird.com |  @zimmergren
Introduction
What can I say; Microsoft is doing a killer job with Office 365 and their cloud offerings in general. Today during the SharePoint Conference 2014 Keynote, they discussed some of the highlighted new features for SharePoint, Office 365 and related technologies. It is a clear message that cuts across all channels, blogs and presentations alike: Cloud comes first, on-premises may or may not be kept up to date.
Let's dig into some of the announcements.
Office 365 is the fastest growing product in Microsoft's history
As quoted from the Keynote presentation from the SPC14 conference, Office 365 is now the fastest growing product in Microsoft's history. A few years back I was very proud and glad that I got to work with SharePoint, which was the fastest growing product in Microsoft history back then. It was a great feeling when Microsoft announced today that Office 365 now is the fastest growing product in the history of the company. The feelings are the same as when I worked exclusively with SharePoint and they announced it as the fastest growing product ever – safe to say, we work with the right technology.
I'm also happy to hear that the Office 365 investments that Microsoft are pushing are actually delivering results; Some of the companies I'm involved with have now successfully migrated to Office 365 and we've never been happier to get rid of the infrastructure and be able to pay full attention to the actual content and format of the data, instead of allocating resources to connect cables and setup servers.
Fun fact about Office 365:
[blockquote]60% of the Fortune 500 companies use Office 365[/blockquote]
Introducing Office Graph
Office Graph is an Office 365-only feature and is based on the concept of the Yammer Enterprise Graph, but for Office 365. It gives you the possibility to map relationships between people and information. Based on how you utilize your Office 365 information (likes, replies, posts etc) it gathers information and makes available in a neat graph that shows you a visual interpretation of how you are connected to people and information.
Look out for more information about the Office Graph in the near future. This is a step in the right direction, and I can see a lot of uses for these types of information-linking and visualizations.
Introducing Oslo
Oslo is a new app which taps into the Office Graph API's and presents you with the information that the Office Graph has collected. So based on the information (again; Likes, Replies, Uploaded Documents, Posts and other data collected) by the Office Graph engine you are presented with the information that is most relevant to you. Making it searchable and workable with less effort for the user. Oslo looks very slick and promising – I'm predicting a LOT more to come in this area, and the Office Graph is one heck of an awesome introduction to the existing toolset by Microsoft.
Introducing the "Groups Experience" and "Inline Social Experiences"
Building onto the story of Office 365 enhancements, we can now enjoy something referred to as "Groups Experience". This is essentially a feature derived from Yammer's social groups.
[blockquote]Over the years Yammer found that the value of enterprise social goes up exponentially when people organize themselves into smaller groups focused on a specific process or deliverable. This simple Groups Experience is so powerful, in fact, that we're making it a cross-Office 365 concept that will unify people, profiles, conversations, email, calendars, and files across the entire set of Office 365 applications[/blockquote]
This means that if you create a new social group in any of your Office 365 applications, that group and it's conversations will be available across all applications. For example if you're creating a new group for discussing a new product launch, you can access the discussions, people and content of that group no matter if you're in your Outlook application, Calendar, Yammer site or SharePoint sites. Simply put: Integrate social group interactions across the Office 365 suite.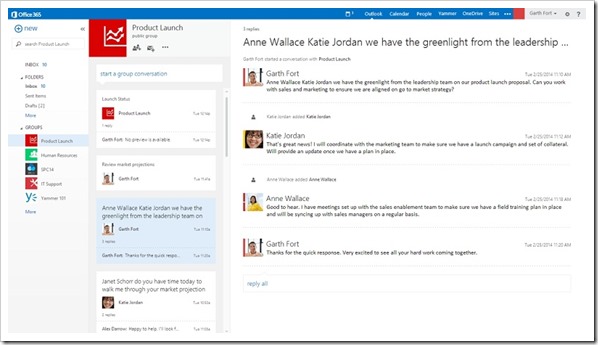 The "Inline Social Experiences" is where they're tying it all together with social interactions across their product suites. Office 365, Dynamics or other LOB-applications. Yammer conversations are being added to documents in SharePoint Online and OneDrive for Business and other similar additions. The future holds additional integration points and will be interesting to follow. Keep an eye out for future releases in this area – integration with Office 365 and related technologies will blossom.
Feature availability
These new features will become available during 2014, without any more detailed specifications.
Summary: Cloud-first becomes an immediate reality
It becomes immediately clear that the cloud-first approach that Satya Nadella mentioned in his first e-mail to the Microsoft employees is already becoming a reality. It doesn't come as a surprise to me, given that Microsoft have pushed in this direction for several years now. I do believe it's an important thing to bring to light though, that even if there's going to be a next version of SharePoint Server for on-premises, that doesn't mean that it will have feature parity with the services in the cloud.
A quote from Jarod Spataro on Office 365:
[blockquote]While we're committed to another on-premises release of SharePoint Server—and we'll maintain its social capabilities—we don't plan on adding new features. Our investments in social will be focused on Yammer and Office 365, so that we can innovate quickly and take advantage of the viral user adoption that is so important to the natural network effect that makes social so powerful.[/blockquote]
Enjoy!