Today, Microsoft announced the release of Visual Studio 2013 March 2013 Update which have additional features, project types and support for some of the enhancements that comes with Office 2013 SP1 and Office 365. So if you're a developer targeting Office 365, Office 2013 or SharePoint Server 2013 it may be a good idea to go grab the update and install it now.
SAP Data Source in your Cloud Business Application

As quoted from the Visual Studio blog:
[blockquote]The March 2014 Update also offers first class support for SAP Netweaver Gateway. When connecting CBA to SAP, it honors SAP annotations for Phone, WebAddress, and Email; speeding up your configuration of entities consumed from SAP Netweaver Gateway.[/blockquote]
While this may seem like a trivial update, I know this is a popular requirement from a lot of my clients. I don't think this is the last data source type we'll see in the list of available types, which is ever growing:

Integrating new document features in your Cloud Business Applications
One of the cool features, which I lacked in one of my CBA projects in the past, is the integration of native controls for managing documents in a library that your CBA is connected to. With the latest update, you get the ability to create new documents in your library from the CBA interface.
[blockquote]When you attach your application to a SharePoint host-web document library, the application will be integrated with a set of new document controls, which allows your users to create new Office documents (either blank documents or from document templates that are available in the attached document library), open documents in Office Web App or Office client, and upload existing documents. All of these are provided by the tools without requiring any extra coding from you.[/blockquote]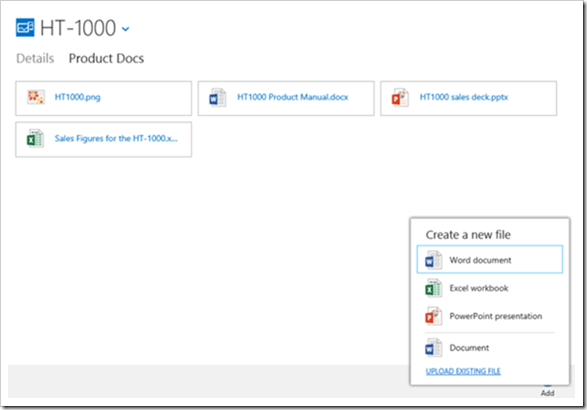 Picture from blogs.msdn.com, as per the article mentioned in the introduction.
To add such a control and work with these types of controls, you simply have a new option here in the CBA Screen design interface: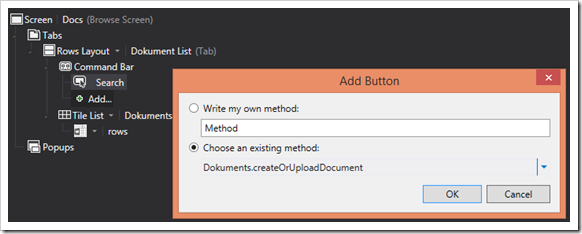 Apps for Office Development enhancements
Some of the additions to the Office App development toolset are mentioned:
[blockquote]Office 2013 SP1 and Office 365 supports PowerPoint content apps, Access Web App content apps and allows your mail app to be activated in compose forms (i.e. when users are writing a new email message or creating a new appointment). Office Developer Tools for Visual Studio 2013 – March 2014 Update supports all of these new app types across the development cycle from project creation, manifest editing, programming, debugging to publish.[/blockquote]
Apps for SharePoint Development enhancements
There's some additions to the experiences for developers when creating SharePoint Apps.
With the latest release of the tools, we now can switch the App project to target Office 365 or target an on-premises installation of SharePoint. It's a new property in the SharePoint project settings dialog:

[blockquote]The app for SharePoint tooling now allows you to target your app exclusively to SharePoint Online in Office 365, or target to an on-prem SharePoint Server 2013 (which can also run in SharePoint Online). Through a simple switch in the app for SharePoint project properties page, the tools will update the SharePoint version number and the SharePoint Client Components assembly references used in your project accordingly.[/blockquote]
Another pretty neat thing is the support for MVP in client web parts:
[blockquote]To enhance the support with ASP.NET MVC web applications, we added MVC support for client web part pages in this update. If your app for SharePoint project is associated with an ASP.NET MVC application, when you add a client web part and choose to create a new part page in the client web part creation wizard, a client web part controller and a default view will be added, following the MVC pattern.[/blockquote]
Wrap up
I've been trying these things out really quick now, and I must say the small but constant flow of enhancements and additions with the new update cadence for all Microsoft products is pretty impressive. Visual Studio 2013 hasn't been around for that long, but we're still seeing new updates being published frequently. It is easier than ever to keep up with new development techniques and tools, and no need for exhausting waiting periods.
Read the full story on MSDN Blogs: Announcing Office Developer Tools for Visual Studio 2013 – March 2014 Update