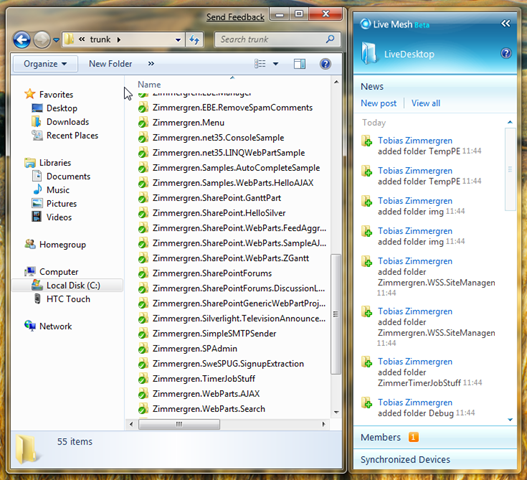 Backing up your local Subversion repositories using Live Mesh
---
I found that using Subversion together with Live Mesh to be a cool solution for syncing your SVN repo with your Live Mesh desktop.
I'm not sure if it's officially supported, but it was a fun idea and it seems to work thus far. At least for minor repos.
Do it!
Create a Live Mesh folder on your drive:
Create a folder in the LiveDesktop folder, and check it out

Now your folder, containing your Subversion repo – will sync to Live Mesh as soon as you make any updates to it:
Summary
So, while this may not be the best solution for your scenario – I found it to work for the time being, without the need for an actual Subversion server being available all the time with backups etc. (You can setup a local subversion server in your VPC if you'd like – and use Live Mesh as a sync)
Note: I don't know if this is a supported solution, and I don't know what effect it may have on performance, long-term backups, collaboration on projects etc.
For my one-person projects I do for fun – it's working good though.
So, don't walk away from this post in the belief that this is the ultimate solution for handling backups and/or syncing stuff. Far from it, but at least a fun experiment.
Technorati Tags: Subversion,Microsoft,Live Mesh
---