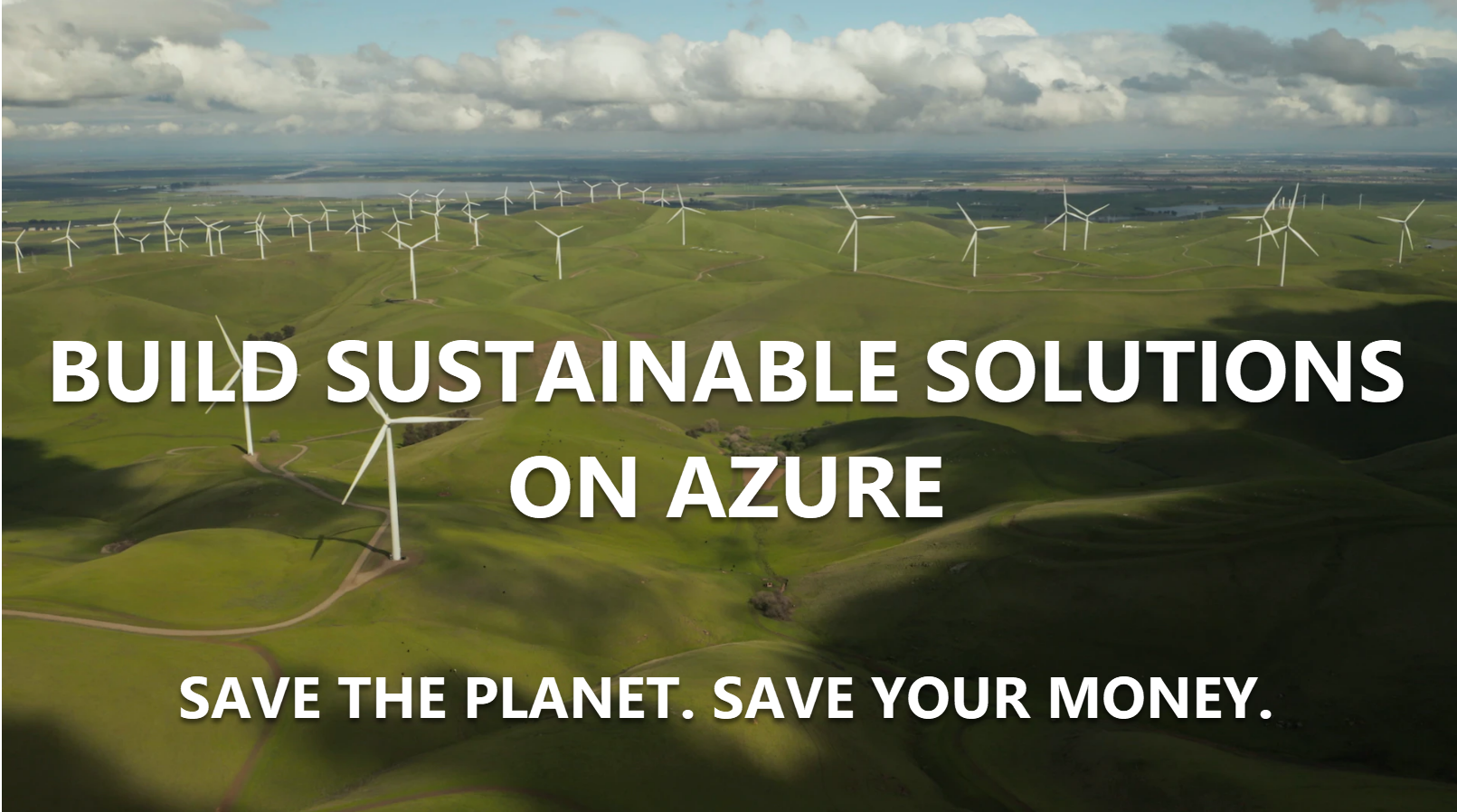 Build sustainable solutions on Azure and save money
Are you building sustainable cloud solutions? If not, read this!
---
Table of Contents
Okay, the headline is a bold statement. However, there is a strong correlation between cost and sustainability. Where you optimize workloads properly, they will likely accrue less cloud spending, ultimately reducing the carbon emissions they generate.
During Microsoft Ignite 2022, Microsoft made several announcements about investments in the area. Let's digest some of these in this blog post.
If you want to sneak peek into some of the content, there's a handy list of all the links mentioned in this post at the bottom.
Let's define sustainability
Over the years, we've been through various sustainability journeys across projects, companies, customers, and technical environments.
The very definition of sustainability starts with the word. I've come across many variations over the years:
Sustainability
Green computing
Green IT
Cloud efficiency
And more
When I speak and write about sustainability, it can really be applied to any of these things. For your cloud infrastructure, it's the idea of reducing waste and unnecessary emissions by optimizing your technical environments.
Let's look at what we can do in Azure to tick the box for sustainability - for the environment and, as a result, for your wallet.
If you want to get technical with the lingo, start with the Green computing article in Wikipedia.
Make decisions on Azure regions
We often hear about choosing the right data center from a sustainability perspective. But how do you know which data center best supports your sustainability targets?
With the Azure Global infrastructure map, you can navigate the globe and find locations near you or your consumers, for example. Further, you can find the relevant sustainability information for that chosen region.
Clicking any of the available regions will bring you a sidebar with additional details: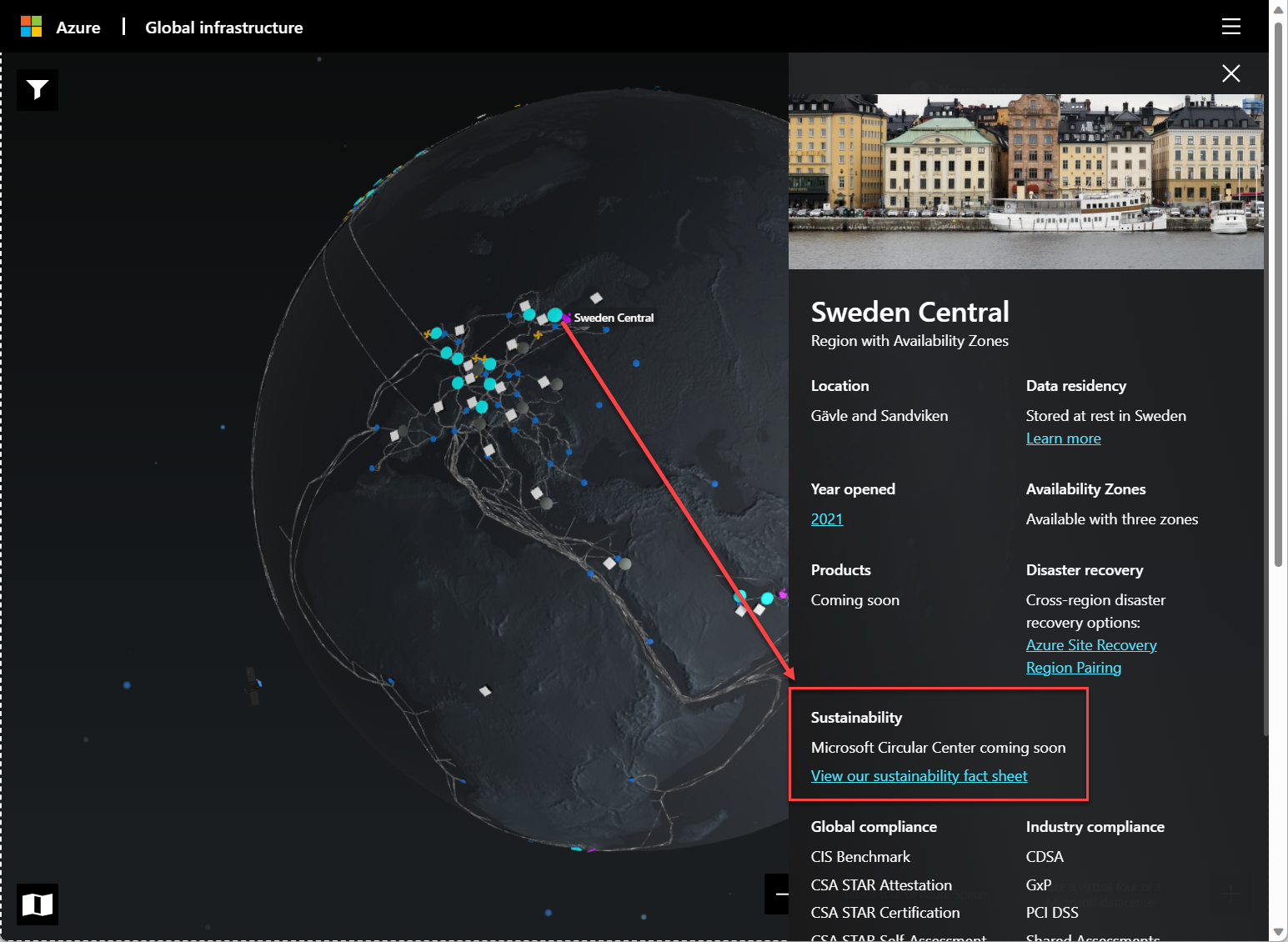 Clicking on the fact sheet for sustainability, you get a high-level infographic with the most relevant data to start making decisions about your Azure regions.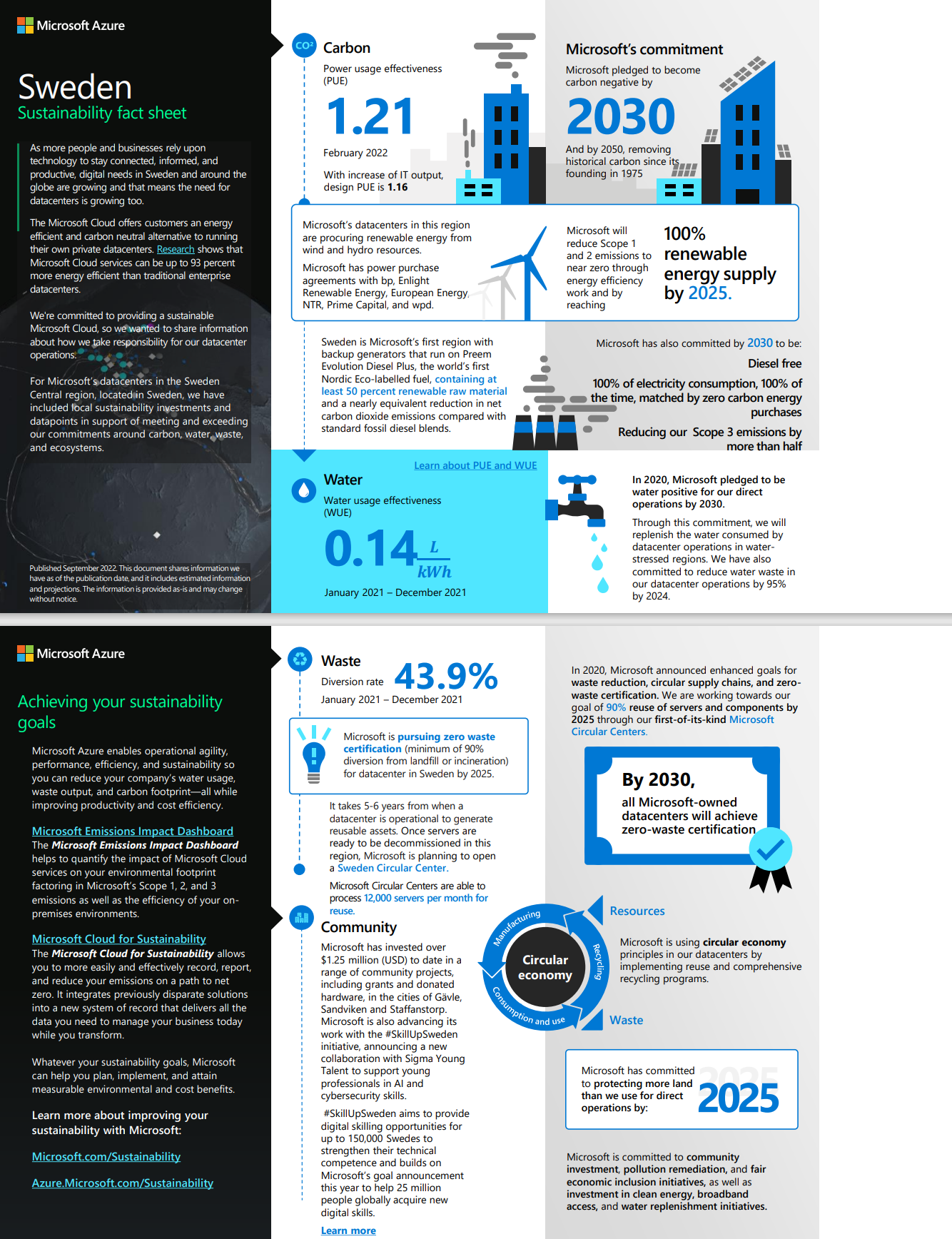 I lean toward the sustainability fact sheets and the Azure Global Infrastructure map when I need to update myself on the latest advancements in the Azure data centers.
Enter the Azure Well-Architected Framework
At Ignite 2022, a core theme was "Do more with less". Sustainability fits that pattern perfectly.
Microsoft released a new set of documents to guide customers in designing more sustainable workloads on Azure.
The sustainability guidance within the Azure Well-Architected Framework provides you with tangible advice to design your Azure workloads with sustainability in mind.
In the guidance, you find steps you can take toward a more sustainable app and IT infrastructure.
Read the full announcement:
Who is this guidance for?
Generally speaking, anyone building and designing solutions on Azure. Technically, the Azure Well-Architected Framework targets IT architects, lead developers, IT decision-makers, and similar roles. Anyone who has a say in how you design your workloads.
Why is it important to consider this guidance?
If you drive your design architecture design decisions around sustainability, you inherently check the box for many of the best practices in cloud-native design patterns as well.
While there may be more inherent benefits, the two big ones to consider are:
You help your organization optimize the IT infrastructure and apps to reduce carbon emissions and energy use.
Optimizing workloads according to the guidance allows you to save on cloud spending, only driving additional cloud consumption when necessary.
What's in the guidance?
There's a lot of recommendations in the guidance, primarily from the various design areas listed below. In addition to those design areas, there are great insights in the Get started and the Design methodology sections.
The design areas include:
A personal interest
Besides the arguably great benefits for your wallet to drive cloud optimizations toward a more sustainable solution architecture, I have had a long personal interest in sustainability and climate impact.
Less traveling
I've almost entirely stopped my air travel in the last eight years. Previously, I used to travel, speak at conferences and events, and meet up with the community, customers, and friends worldwide. It was a fun but hectic period of my life, but at the same time, not very sustainable. Today I try to travel only when necessary, both for my health, and for the climate.
More self-sufficiency with food from spring to autumn
I grow as much as I can from early spring to late fall. I have spices, herbs, onions, garlic, and vegetables in my small garden.
If you've ever tuned in to the Ctrl+Alt+Azure podcast I run with Jussi Roine, you may have heard me mention this more than once.
Less new, less CO2
Someone once told me a catchphrase. "Less new, less CO2". It rhymes if you spell it out, so it stuck with me. We find something we can repurpose for many of the tools and things we buy for our garden, house, or life.
While I can't yet call myself a minimalist, it is something to reflect on when the desire to buy something kicks in.
Do I need it?
Will I be happier with it?
Is the world a better place if I get it?
Resources
To expand your understanding on sustainability and how you can make a difference in the cloud, check out these links.
---