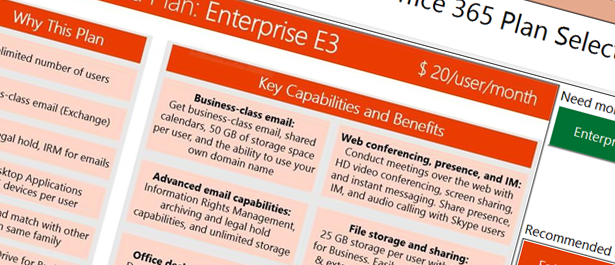 How do I know which version of Office 365 I should use? - The Office 365 Selector Tool comes to the rescue
---
With the explosion in Office 365 adoption of enterprises and small- to midsized companies around the globe, there comes a challenge. Well, there actually comes a lot of challenges (or discussions, rather) with any new technology or platform which needs considerable amounts of investment either in actual capital or in resources. Some of my clients that are looking into moving to Office 365 have the same questions iterating over and over, namely: "What version of Office 365 best suits us?".
In this article I'll demonstrate the awesome Office 365 Selector Tool which is a new Excel-file made available by Microsoft to allow us to make the decision easier. As per Microsofts web site, the tool is perfect for small and medium sized companies up to 249 employees, but I don't think there's really a limit there – that's just the target audience of this file, as of this publishing.
Introducing the Office 365 Selector Tool
The Office 365 Selector Tool is an Excel-file with a huge button saying "Launch Office 365 Plan Selector Tool", which you should press. Please note that if it doesn't work – read the instructions in the file, you need to enable macros and enable editing etc, so make sure you read the details of the first page of the file.
Here's what the tool looks like initially, upon launching:
There's a bunch of questions that you need to answer in order for the tool to be able to properly calculate what version would work best for you. But it's really simple – just select your preferences as per the questions and hit "Recommendation" to see what your recommended subscription for Office 365 is.
More details about the questions for the uninitiated:
How many employees does your business have?
Well, this is pretty straight forward. But plan ahead – if you're growing quickly make sure you have that in your calculations when selecting your answer.
Do you need a business-class email and calendar service?
This is a question whether you want the awesome Exchange Online services to host your e-mail and calendar services.
You get a 50GB mailbox by default per user.
Do you need IRM (Information Rights Management), archiving and legal hold capabilities for your e-mail?
This is a question about whether or not to enable eDiscovery center which searches across your Exchange mailboxes (pretty awesome feature). It also comes with the legal holds and archiving functionalities. If you haven't already, do checkout the eDiscovery features of Office 365 – they're pretty awesome.
Do you need Office Desktop apps (Outlook, Word, Excel, PowerPoint etc) to install on your employees' devices?
Simply a question about whether or not your users will need the Office suite installed on their machines or if they're happy with running it online. Personally, I always deploy the Office suite because honestly there's no better efficiency tool than Outlook when it comes to mail – and Word, Excel and PowerPoint are all applications that I cannot live without a single day in my line of work.
Do you need the Office Desktop apps for all employees or only some of them?
The question is pretty straight forward; How many of your users should use desktop applications, all or only a selection of them?
Do you need file storage and intranet team sites for employees to store & share documents and work collaboratively?
My favorite one. Well, except for number 2, which is about e-mail services. This one is simply if you want SharePoint to be part of your Office 365 subscription. Of course, it should, because SharePoint is pretty slick if you are collaborating with your colleagues and want to continue do so in a seamless way.
After taking some time to answer the questions, which shouldn't take long at all, you just press "Recommend" and it'll display the best suited plan for you:
Of course, if you want more juice or tighten the budget you can always down-size or scale it up quickly. When I selected what I needed for one of my businesses, it recommended me the Enterprise E3 plan as per the previous picture. However, there's a neat button below saying "Need less?", which upon clicking displays what features will get removed from the recommended plan if I downsize to the Midsize Business alternative:
For me, this made more sense on a lot of levels – but foremost since I don't use any eDiscovery, archiving or legal hold capabilities. I don't need to mix & match my products and I certainly do not need any IRM capabilities at this point – so it was quick and painless to realize that the Midsize Business plan is better for my scenario.
Of course, the recommended plans will differ depending on the number of users you specify as well.
Summary
This post wasn't meant as a sell-in for Office 365 or any technology related, but rather a helpful guide for those of you who are already considering Office 365 and are about to make a move to get on the train. I hope it'll serve you well.
---