Reflections on being a worker in a mobile- and cloud first world
---
As a lot of you know, important steps toward a new way we work is being observed throughout a lot of businesses worldwide. A lot of companies are giving their employees the benefit of working remotely over the internet and there's a trend in seeing an increased freelance workforce taking charge of their own destiny as well.
During an advisory board meeting yesterday I discussed the opportunities (and challenges) of working remotely and what tools were required to enable their people to manage their daily work with the same (or better) performance and professionalism. The group of people I met with is a mix of large company managers, consultants from various consultancies and freelancers who run their own businesses.
It all boiled down to a few discussions around tools and benefits.
Top 3 reasons for working remotely
There's a lot of reasons for why you would want to work remotely as an employee/freelancer/consultant and there's just as many reasons for why an employer would want to let their employees have the choice to do so when convenient. Here's the top 3 reasons we concluded in our council.
Reason 1 – Productivity
The one primary benefit of working remotely, whether it be from your home office, from a remote office location or even from a local coffee shop, is productivity. With less distractions there is a lot of gain in working from your own office/home/, but if you're not disciplined enough it can have the opposite effect of causing more distraction than at your office.
After a few months of enabling everyone to work remotely in one of the organizations, the results were pretty much the same – everyone got around the same amount of work done. Some more, some less but with the conclusion that it does not affect your productivity negatively. In most cases, the productivity were increased.
Reason 2 – Travels
Being a person that has spent a LOT of time on the road, in the air and on the rails during my traveling days I know exactly how irritating it can be if you can't access certain systems remotely. Spending an average of 3-4 days a week travelling, I really couldn't get work done unless I was doing it remotely. With modern communications and infrastructure the "while on the road we've got no Internet"-line just doesn't apply anymore.
Reason 3 – Flexibility
Start the day when you see fit, obviously within the boundaries for what is possible in your organization or with your clients. Some of my clients have adopted this and allows for a lot of remote work, while others don't. As time passes, I'm pretty confident that more organizations (at least within our line of business) will adopt and adapt to these modern ways of working. Having a flexible way of working, not only in terms of hours but also in location, gives a lot of people an energy boost.
Subscriptions gives you the tools on the cheap
With this brave new world that we're seeing, being able to afford and use the latest and greatest technology of your choice is very important. Since I'm running my own business and I work with a variety of clients, often simultaneously, I have a lot of different technology that I need to have in handy to do my job.
The new ways to charge you through using subscriptions is really beneficial. It's beneficial for you because you don't have to pay the full price of an expensive software and it's beneficial for the vendor because you'll have to pay a license for as long as you use their software.
Here's a list of my favorite subscription-enabled tools and services.
Office 365 Subscription

I get all my productivity tools from Office 365 today. I've been using Office 365 for many years, but previously it was called BPOS (Business Productivity Online Suite). When the Office desktop tools became part of the subscription model I never looked back. Both for large organizations, for freelancers or for startups there's a model that suits both the requirements and the wallet.
Simply awesome.
There's essentially two genres of Office 365. One for Home/Personal and one for Business.
I'm using: The full Office desktop package and Exchange. (I'm using more services in various accounts, but in my day-to-day business the Office desktop apps and e-mail are irreplaceable).
Windows Azure Subscription

One of the major decisions I've made regarding my daily routines is the switch to go all-in on cloud solutions. I'm now hosting all my virtual machines, build servers and development environments in Windows Azure.
I'm using: Azure Web Sites & Apps, Azure Mobile Services, Virtual Machines. (I'm using more services with Azure for tests, but these services are all part of my daily routines and are worth a special mention).
Visual Studio Online Subscription
Don't even get me started with the awesomeness that is Visual Studio Online. With the introduction of Visual Studio as a subscription and using TFS in the cloud, I've been hooked. Obviously I've been using Visual Studio and various source code management systems before – but the ease and reliability of Visual Studio Online had a huge impact on my decisions moving forward.
The main benefits of Visual Studio Online, in my work, is the integration of code and backlogs. You can easily connect a commit/check-in with a specific task or backlog item in your scrum backlog. Besides having about everything TFS on-premises had and then some more, it also offers an awesome web UI where you can do code reviews, follow up backlogs and manage your entire project flow. Winning.
I'm using: Visual Studio 2013.3 (currently, will upgrade as soon as it's possible), source code management with TFS, backlog management and dashboards to see the overall status of my product development or current backlog iteration burndown stats etc.
Adobe Creative Cloud Subscription

This! This is something I've been waiting for. The Adobe Creative Cloud is the absolutely best way to get access to the latest and greatest from Adobe.
I'm using Adobe Photoshop and Adobe Lightroom regularly, and with my subscription in the Creative Cloud I always have the latest copy of my tools. I'm primarily using Photoshop though, mostly for designing icons, web graphics, branding or other app- or solution related artifacts for my projects.
One of the major benefits of using this as a service is that you get so many connected services to go with it – for example fonts from TypeKit can be downloaded directly when you open a PSD if you're missing them, fonts will be synced between computers running the same account etc (I've got two machines with the same software).
You'll see your latest changes (adding fonts for example) and can install new Adobe Applications by just clicking a button in your Creative Cloud desktop application!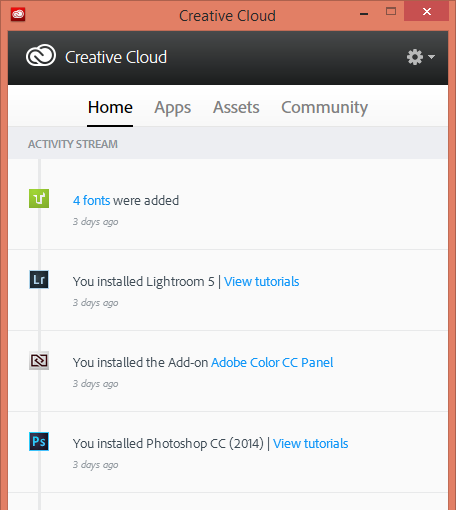 **I'm using:**Photoshop and Lightroom primarily. You can easily install any of the free applications or try one of the paid alternatives. Trust me, if you haven't checked this out – you need to do that right now. Prices are very generous.
Miscellaneous services/subscriptions
Part from the main services and tools listed above, a daily work routine comes with a bunch of other software, services or plugins of some kind. Here's a simple list of things I also use to make my days easier:
Dropbox (1TB online storage for $99/year – most reliable storage option I've tried)
CrashPlan (Backup and restore – can sync to your local NAS – I'm using a Synology NAS).
I'm sure I've missed a few things that I'm using in my daily work. I've chosen not to mention all the social tools that exist, but focus on the core productivity and business tools that make most of my days work.
Summary
It shouldn't come as a surprise that Satya Nadella, the new CEO of Microsoft, is promoting a Mobile- and Cloud-first world. We've been going in this direction for a very long time.
Only now with all the aforementioned subscription models, new modern devices and open minded businesses, I feel that technology is catching up to the promise of delivering an always-connected and truly location-irrelevant experience.
A lot of my friends in my line of business are entrepreneurs, freelancers or part of smaller companies – every single person I've spoken to simply love the transitions they are doing with licensing products and services. Pay as you go – and only pay for what you use.
Game on, world.
Enjoy.
---