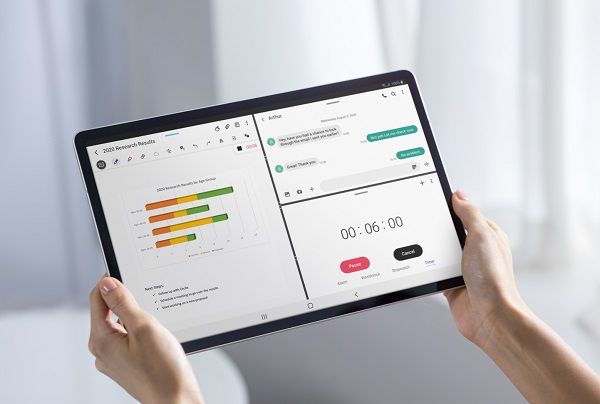 Samsung Galaxy Tab S7+ Review: Can you do real work with this device?
---
In this post:
The device, the specs.
The pros and cons, after about a month of daily usage.
How to: Use it as a main workstation with DeX.
How to: Use it as a secondary monitor/screen.
Using it with Zwift when I'm riding my road bike indoors.
The device
Let's start with my first impression. Wow.
I don't buy a lot of new devices or peripherals. I have a laptop, a tablet, and a phone. I have these devices to stay productive in my working days, and to have what I need when I'm spending casual family-time, too.
Using the Galaxy Tab S7+ leaves little to wish for. It has everything I currently need, and it's a real power machine. Below are the specs, and further down you'll se a few of my use cases.
Specs
Colors: Mystic Black, Mystic Silver, Mystic Bronze (my color).
WiFi: Wi-Fi 6 (802.11 a/b/g/n/ac/ax)
Bluetooth: Bluetooth v5.0
Battery: 10,090mAh, fast charging 45W
RAM+Storage options: 6GB+128GB, 8GB+256GB, 8GB+512GB
Micro SD card: Up to 1TB
CPU: Qualcomm SDM865+, Octa Core (3.09GHz + 2.4GHz + 1.8GHz)
Display: 12.4" Super AMOLED, 120Hz (AMAZING!)
Dimensions: 11.22 x 7.28 x 0.22"
Weight: 1.30 lb / ~0.58 kg
Features: Fingerprint sensor in the display, accelerometer, gyro, proximity, compass, Samsung DeX
Pros.
Things I like!
Great, like really great, immersive screen! 120Hz AMOLED!
Huge screen real estate, since it's the Plus model.
The quad speakers are good
The included S Pen is pretty accurate.
Battery life is more than enough for my daily use, so far.
A premium look, but more importantly, a premium feel!
No headphones jack! If you, like me, use wireless earbuds - this is a win, because one less area that collects dust and particles.
"Smart Screen" mode for using the tablet as a secondary monitor, over wifi! No cables needed :)
Cons.
Things that made me think twice.
It's fairly expensive.
Some apps are limited. Apparently, iOS have better support for some of the common apps.
No headphones jack. If you want that, this tablet doesn't come with one.
Consider that the Plus model is larger, and therefore might not fit into "normal sized" tablet holders. I have that issue with my Tacx tablet holder for my indoor bike, for example. The normal Tab S7 would fit, but this one does not - even though the tablet holder is flexible.
Next, we'll dig into what this device can do for me on a normal day.
Samsung Tab S7+ for professional use
Let's set the stage. For me, professional use means that I can use it in my everyday life in the IT field. Before we drill further; no, I don't see it as a replacement for any laptop. But it is a good alternative when I'm on the road and need to get things done, and I don't want to bring my laptop.
Making notes
Reading docs
Recording podcasts (!)
Super-portable work environment
Microsoft Teams
Zoom
How do I use my Galaxy Tab S7+ for work?
Video Conferencing and Calls
I use Microsoft Teams and Zoom interchangeably. This works very well, and I am happy to be able to do this on the tablet, while I do other things on another device. If I'm catching up with family, I can do it with ease from the couch.
It works well as a device for calls during work hours, too. However, I am mostly using the laptop since I'm already at my desk by that point.
Writing
I write a lot. Technical documentation, articles and blog posts are things I spend a lot of time on. This device works well for that, but again, perhaps only because I have my external keyboard and mouse.
See more about how I'm writing in the section below for using Samsung DeX.
Making notes, and use the pen
In the past I made a lot of notes on paper. I still do. Working analog with a pen and paper is one of the most effective way for me to take a seed of thought into a tangible idea.
However, since we're specifically talking about the Galaxy Tab S7+ here, let's focus on the digital side of making notes.
I use OneNote. A lot.
Using the S Pen is really neat. So far, I have used it to make notes for the podcast, drawing draft ideas of diagrams I need to later design in Visio, and doodling when I'm on calls.
For anyone who question whether you should spend time doodling or not, there's a research from Harvard about the "thinking" benefits of doodling.
On-the-go device
A lot of the work I do is done from web browsers, terminals, and development tools. Since I basically just need a connection to the internet for the majority of these tasks, I can bring this tablet when I want to get some work done from a coffee shop (pre-covid), or otherwise working in an alternate location.
I can also connect to certain Virtual Machines in Azure, allowing me to perform certain tasks as it were a full workstation.
It doesn't come close to replacing my laptop, but it is a great device to bring when I know what I need to work on, and if most of those tasks are as described above.
Samsung Galaxy Tab S7+ as a workstation using DeX
I can plug in my Samsung Galaxy Tab S7+ with a USB-C cable directly into my monitor, and it will instantly render a mirror of the tablet on the monitor.
While this is pleasing, and I could see the benefit of the mirror, I can already do that with wireless screens and TV's. (See below about using Smart View and my TV).
Using what is known as Samsung DeX, you can get a full Desktop experience and connect your mouse and keyboard. Using the DeX mode it will no longer just mirror your tablet, it will set up your monitor as if it were a "Desktop" workstation.
In DeX mode many apps have been optimized to render and work with a desktop feeling, which enables you to work more traditionally, but more modern at the same time. If that makes sense.
On the Samsung website they list a lot of apps that have already got support for DeX mode, and the list is continuously growing. I really like this ecosystem.

I hooked up my Bluetooth mouse (MX Anywhere 2), and my keyboard Logitech K810. Since both of these devices can connect to multiple devices over bluetooth, I really like how seamless this is. Connecting the tablet in DeX mode, including switching the bluetooth channels of my devices take literally less than 10 seconds.
To illustrate how it differs from mirroring, here's an image of the DeX mode, in full desktop mode.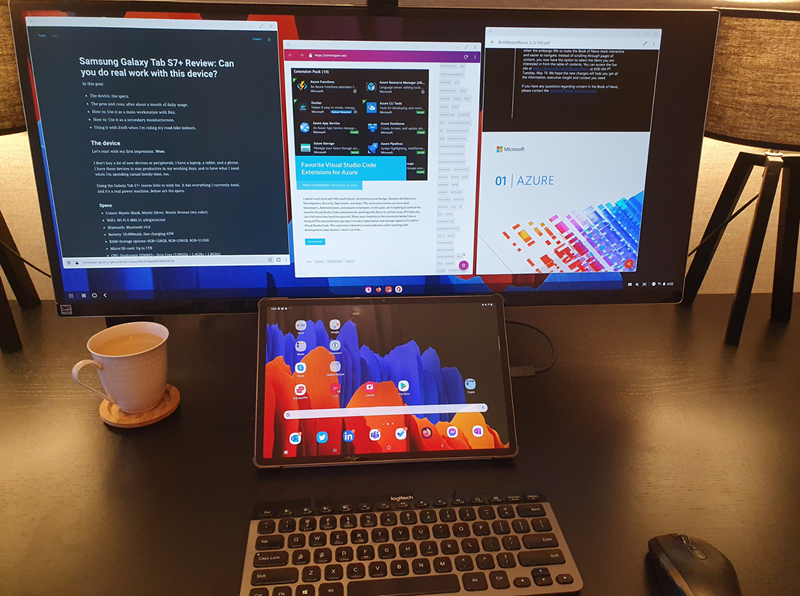 In the picture here, I'm drafting a blog post (this very post), and I am doing it like it was any laptop or desktop computer. I am using the bluetooth keyboard and mouse that I love - both which I use daily with all my other devices, including the laptop. This means there's literally no change in my ergonomics, writing, or other inconveniences when switching to the tablet.
Now, talking about real work - I am using the Microsoft Remote Desktop app for Android, which also support DeX mode. With that, I can not only RDP into any of my Azure VM's, I can get a full-blown experience with my keyboard, mouse, monitor and so on. Connecting to a PC in the cloud this way is pretty slick, and brings a lot of power to the experience, as the Virtual Machine in the cloud has a LOT more power and can handle heavy tasks, while the Samsung tablet just renders it on the screen.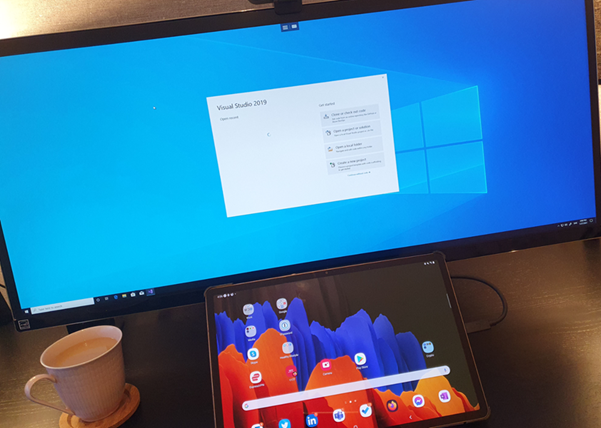 As a nice convenience, when running in the Samsung DeX desktop mode, you can minimize apps and they'll appear at the bottom of the monitor, just like they would on Mac or Windows. They have thought a lot about this experience, and it shows.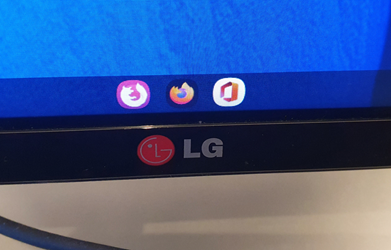 Samsung Galaxy Tab S7+ as a Second Screen
There's a new feature rolled out to the Samsung Tab S7+, called Second Screen.
The promise here is that you can, wirelessly, connect your Samsung Galaxy Tab S7/S7+ with your laptop, and use the tablet as a secondary screen.
For many years, I have worked intermittently from coffee shops, moved between home office locations like the kitchen, living room, or the actual desk where most of my peripherals are. Sometimes, even though I'm working on my laptop, I really need that second display. I've used a wire (USB) for many years to accomplish this.
With the Samsung Tab S7+, you can, wirelessly, connect it as a second monitor to your Windows 10 PC. To me, this is great news. However, I have seen users reporting issues with connecting to the tablet as a Second Screen. Hopefully that will be resolved soon. A quick search reveals that several users in various forums are mentioning the tablet screen connecting, then turning black, and then disconnects again.
Pre-requisites to use Second Screen:
Make sure your Samsung Tab S7+ device is upgraded with the One UI 3.0 Update.
Make sure your Windows 10 PC is version 2004 or later.
Make sure your PC is capable of WiDi.
To simply try it out, here's the steps.
On your Samsung Tab S7+, enable "Second Screen"
On your tablet, select the "Second Monitor" mode, which you can find in the top section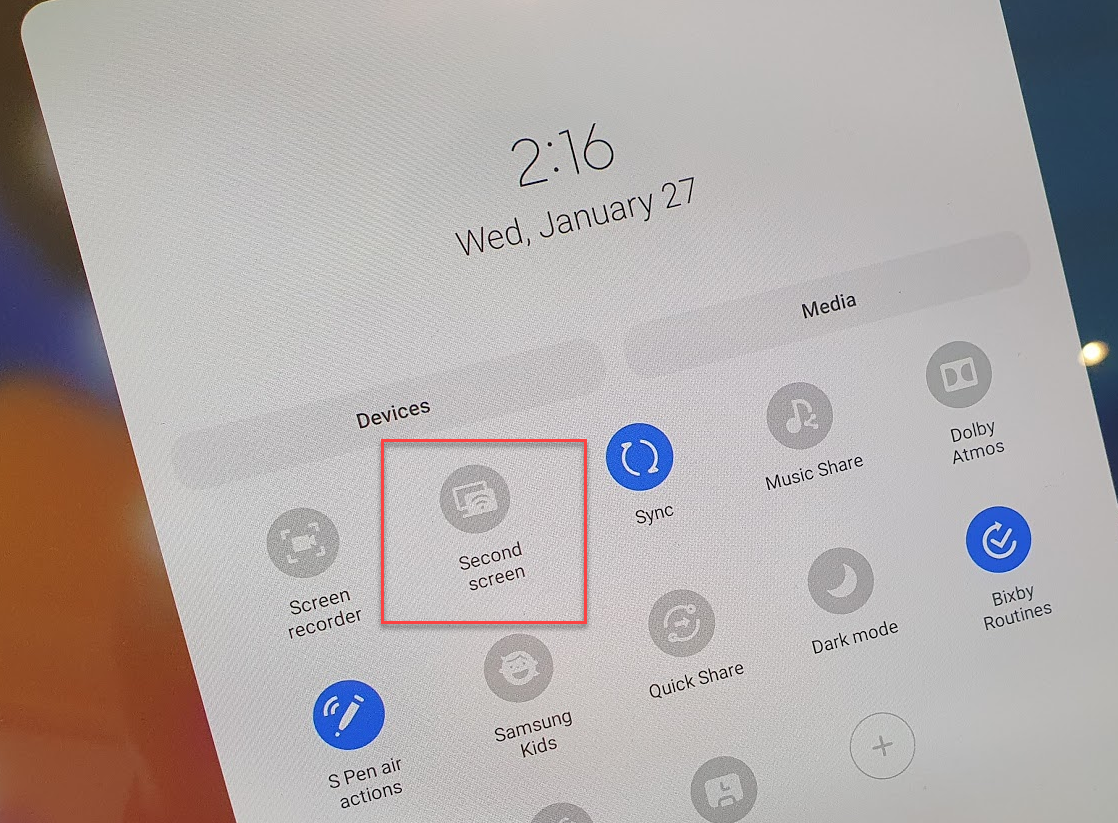 That's it. Next, lets head to our PC.
On the PC, hit Win+K to bring up the connect dialog
So, we hit Win+K here and we should, if you are located on the same WiFi as your tablet, see that it is available in the list: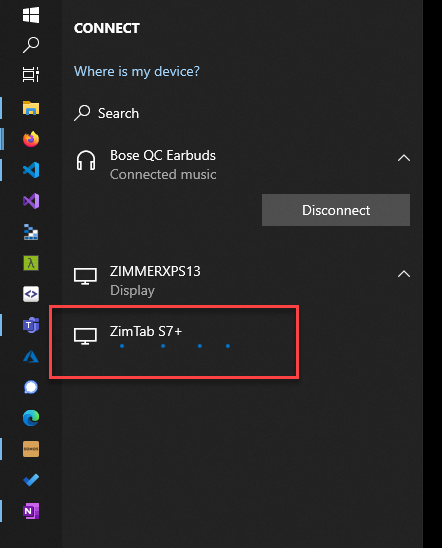 There we have it, the Samsung Tab S7+ is now in fact our second monitor to the laptop.
Voila. If your PC is capable of projecting the screen, you now have your second monitor up and running - wireless.
Streaming your tablet to your Smart TV using Smart View
I have a Samsung TV, and using a Samsung tablet is ideal when I want to shoot my screen from the tablet to the TV.
From the top menu, simply select "Smart View", and you can connect to your TV.
Here's my 4K 49" curved Samsung TV, receiving the input from the tablet. This is great when I want to show the family something, or display something that my TV can't connect to, but my device have access to, etc.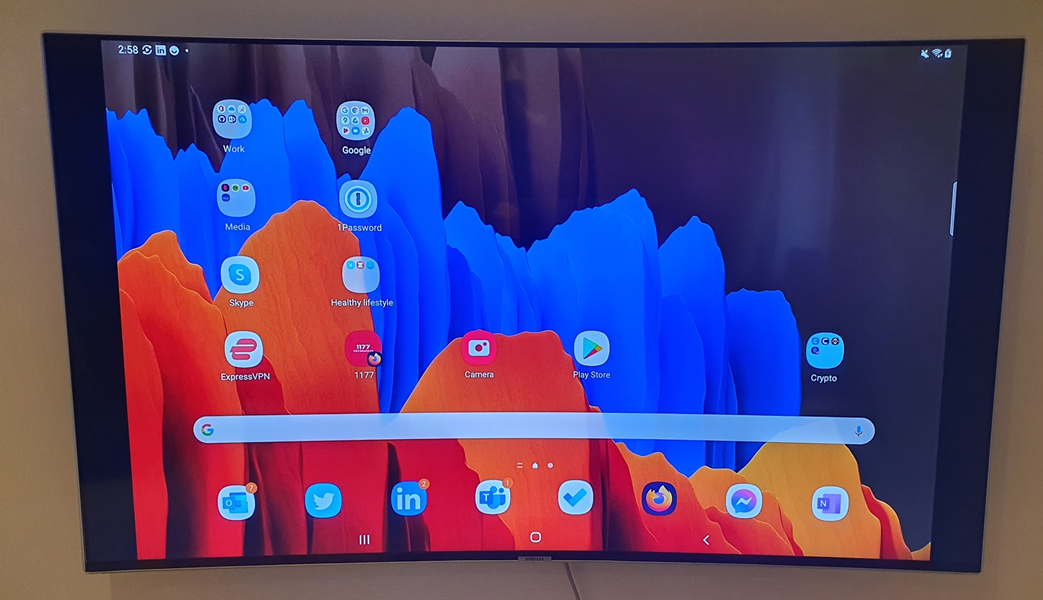 The experience here is pretty neat - and foremost simple without wires. I wouldn't use it for watching shows or videos. I would use the Smart TV's built in apps for that. However, using it for sharing stuff with the family, or running an app that the TV doesn't have access to, is neat.
My main use case for this Smart Screen mode, however, comes in the next section.
Galaxy Tab S7+ with Zwift: Biking indoors
I've been riding road bike for years. Mostly casually, and as a healthy activity to stay in shape. Where I live, there's not a lot of possibilities to rid the bike during late autumn, winter and early spring - it's simply too dark and slippery outside.
Since I want to stay healthy and workout, I started using Zwift. This way I can continue my workout during the winter, and get a lot of good insights to how I am improving. When spring hits us, I can put the myself to the test on the real roads again.
For anyone interested, the trainer I'm using is the Tacx Neo 2T.
Here's my setup. You can see I have mounted my tablet at the handlebar, making it very accessible if I need to make any selections during the ride. I am riding entirely wireless, which seems to be how I like to work with the tablet overall - it is simply a great device for many of my purposes.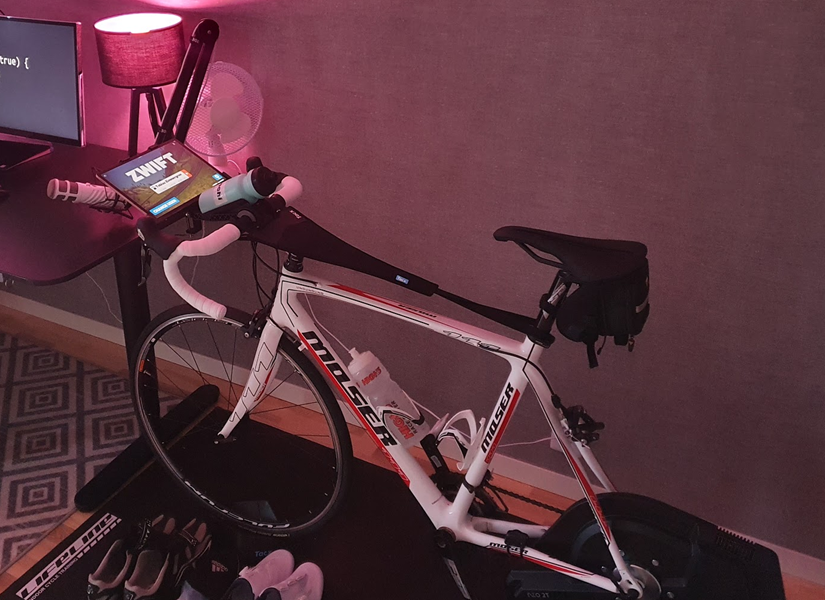 I wanted to bring the indoor cycling up mainly because I can stay healthy with low effort. We have two kids, we're four people living together, and I work from home. There's a challenge to find time to workout - and since we can't really go to the gym or other in-person training activities these days, I found that this way of riding the bike is incredibly beneficial for my well-being.
When I have a gap, it takes literally 5 minutes until I'm switched into the aerodynamic smooth biking clothes, and off I go. Well, I'll stay where I am but I'll virtually ride really, really fast.
Speaking of the Smart View I mentioned earlier, here's what that looks like when I'm connecting using Zwift. It's really nice - if I don't want to just use the tablet screen during workout, I can simply stream it to the TV and get the big picture  - this is particularly great when I do group rides or have longer rides. I use my phone for video calls, or another tablet, or worst case the PC - and on the S7+ I'll stream the Zwift ride to my TV so I can enjoy the "scenery".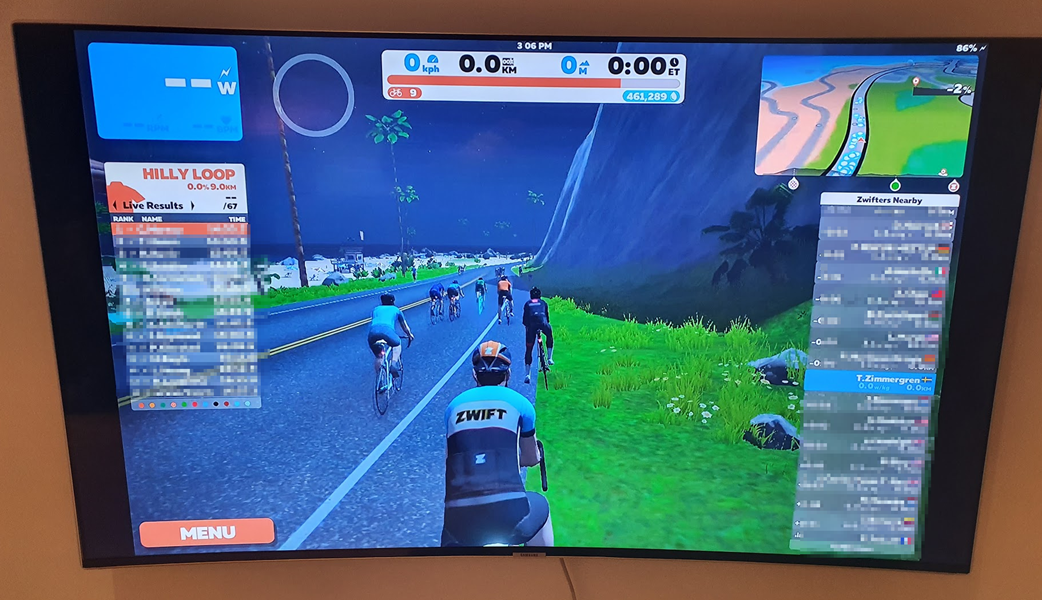 There we have it. A couple of use cases for how I use my Galaxy Tab S7+ in my everyday life.
---