Upgrade Application Insights to Workspace-based Resource Mode from Classic
---
Recently, Microsoft introduced a new option when creating Application Insight instances. A selection to help us choose between the Classic approach, or the modern Workspace-based mode.
In the Azure Portal, it can look like this when we create a new Application Insights today: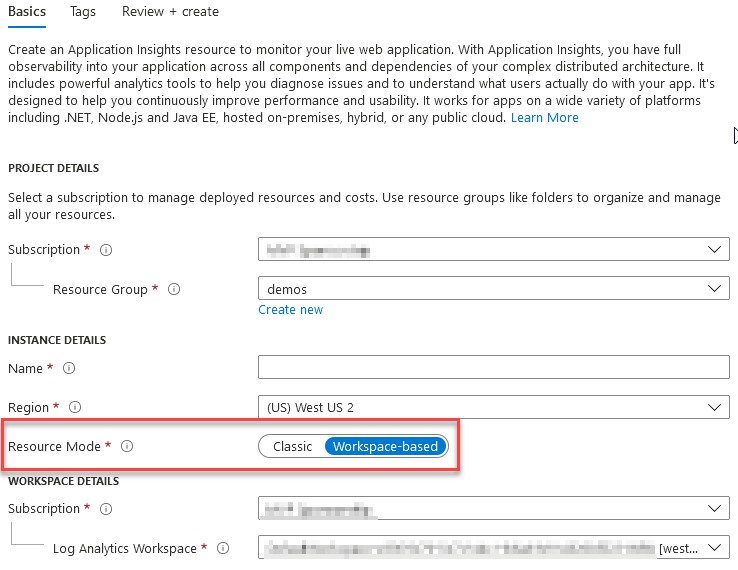 If you have Application Insights instances that were created some time ago, you may want to upgrade to Workspace-based mode at some point.
Note: Classic Application Insights will be retired on in February 2024, which indicates that using Workspace-based Application Insights is the way forward.
Based on the docs, this comes with enhanced new capabilities:
Customer Managed Keys. You can encrypt all data with encryption keys that you have access to.
Private Link support.
Capacity Reservation tiers help save on cost.
Faster data ingestion with Log Analytics streaming ingestion.
Read more about the new capabilities in Microsoft Docs.
A recent use case for me, for example, is to run cross-resource queries. This means I can request data from many App Insights resources from a single query. For Application Insights to support cross-resource queries, we need to be on the latest incarnation of the service.
Since the Workspace-based approach is targeting a Log Analytics Workspace, we get all the querying power from that. I like.
Migrate to Workspace-based resource mode
NOTE! Before you do this, please be advised that this is a one-way trip. You cannot revert this change.
Please also read the changes in schemas, which is important if you have a lot of queries depending on your App Insights.

Read: App Insights and Log Analytics Schema Differences
In the Azure Portal, this is fairly straight forward. Navigate to your Application Insights - Properties -> Switch to Workspace-based: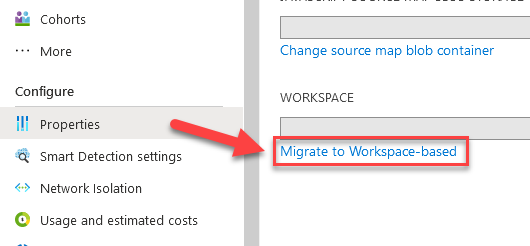 This presents you with the option to select your Log Analytics Workspace (hence the Resource Mode name "Workspace-based").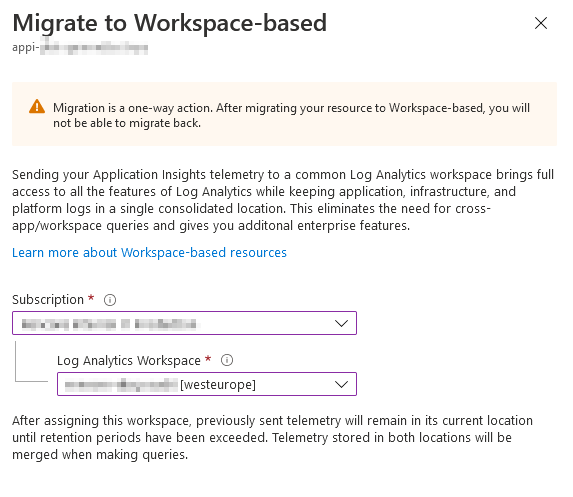 With that, we can easily migrate a single App Insights to the Workspace-based resource mode. Great success.
We can see the new workspace, and if we want, we can change it later.

If you, like me, have a lot of resources to manage and maintain - there are more ways to migrate to the Workspace-based mode.
Read more about how to do it from the API's below.
---