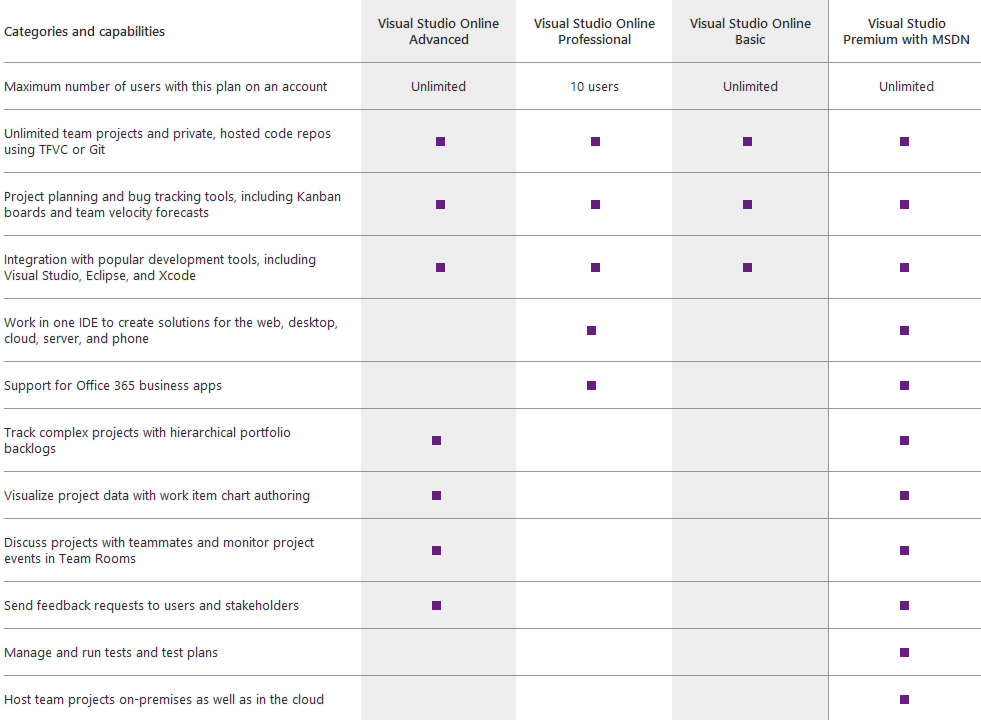 Visual Studio Online - Let's you leverage the cloud for your development projects
---
In the past I've written some technical articles about "TFS Preview" which was the name of Visual Studio Online while in beta. Now that it's officially launched (and awesome), I'd like to make a small wrap-up of the features I really love with Visual Studio Online. And of course the pricing which I'm getting tons of questions about each week.
Previous articles on the topic
Editions
Visual Studio Online comes in a few different models and prices. Tailored to meet your needs, you can choose from the various alternatives and subscribe to them. Yes, the key here is that you subscribe to them. Instead of buying an expensive license for your developers, you can now subscribe for a monthly fee – all curtsey of the oh-so amazing cloud model.
Visual Studio Online Basic
The basic plan is awesome, because the first 5 users are FREE!
The normal price for the basic plan is $20 / user / month.
Visual Studio Online Professional
The normal price for the Professional plan is $45 / user / month.
Visual Studio Online Advanced
The normal price for the Advanced plan is $60 / user / month.
MSDN Subscribers, see here!
There's a white paper published called Visual Studio and MSDN Licensing White Paper which describes the different options and subscriptions. If you're an MSDN subscriber you can access some of the benefits of Visual Studio Online without additional cost.
Comparison chart
Microsoft have provided us with a great comparison chart over the features in the various editions of Visual Studio Online.
[![image](GHOST_URL/content/imag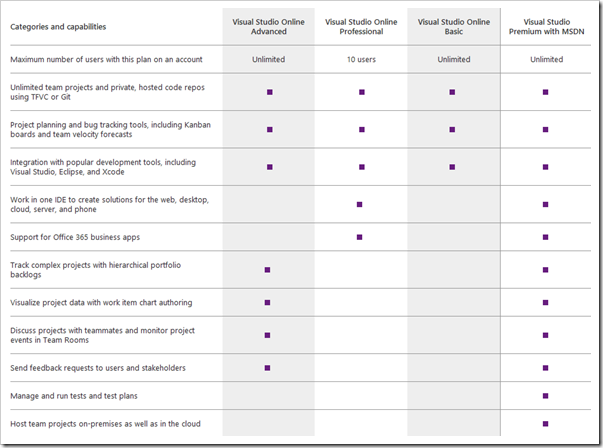 et/content/images/2014/02/image.png)
Summary
It doesn't have to be expensive to develop great software anymore. We all know that in the past it cost a lot of cash to get a license for Visual Studio or MSDN. Now you can purchase a subscription that suits your needs and it'll come to a pretty cheap price in my opinion. My organization uses MSDN Ultimate, which gives us access to essentially every feature in the package. Some of my clients are purchasing subscription licenses for the Visual Studio Professional which is quite sufficient for the most part.
The point of this post is to merely highlight the benefits of the new subscription model for Visual Studio since I've been getting a lot of questions about it lately.
Head on over to www.visualstudio.com to read the rest – it'll be worth it!
---