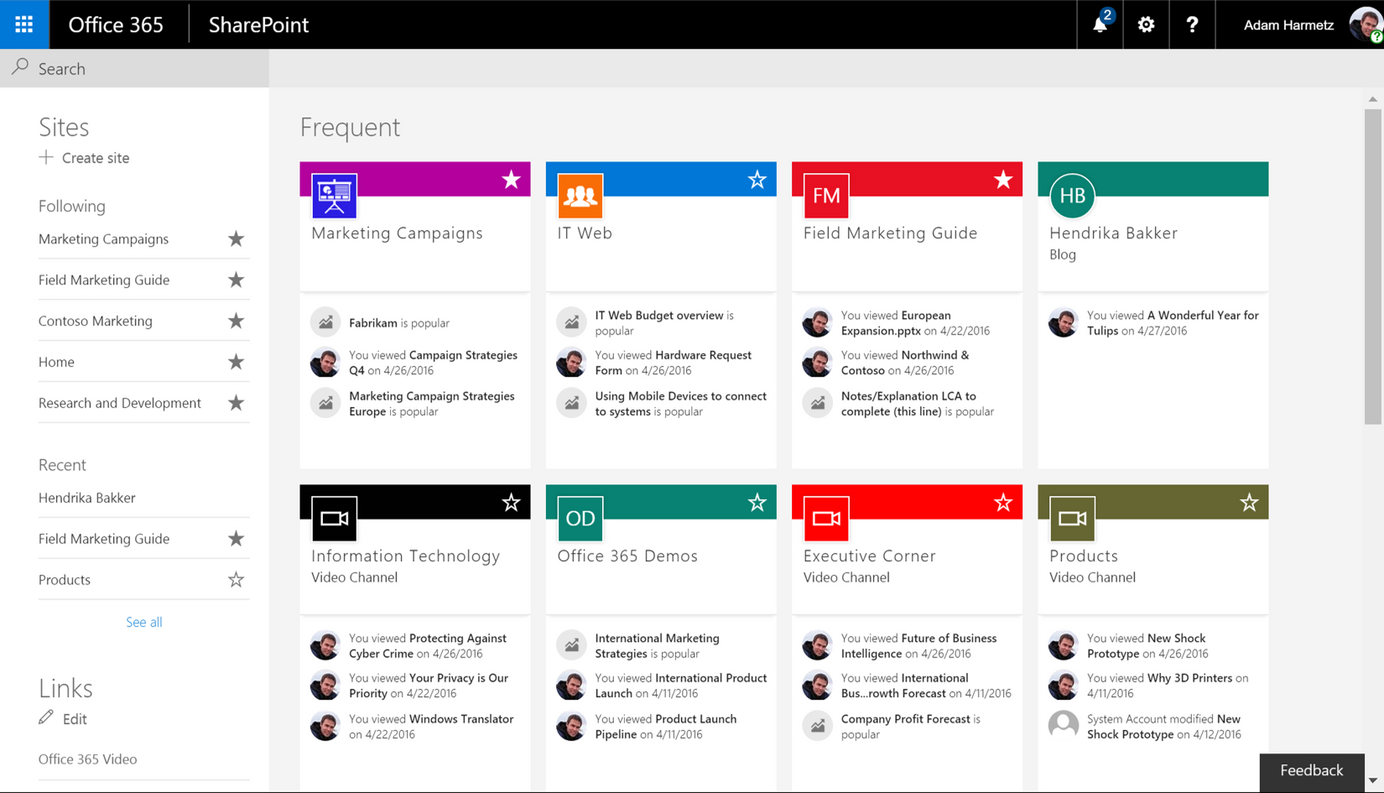 The Future of SharePoint - it's here!
---
Today Microsoft announced "The Future of SharePoint" at one of their events. This is a big step in the right direction for many reasons, and in this post I'll try to explain my take on why I like what I'm seeing.
Microsoft is really reinventing themselves. That's why I love being part of the story as an architect and developer on these highly relevant platforms and services.
During the keynote, there were two short promotional videos about the future of SharePoint and related technologies. If you haven't seen those yet, check them out below.
The Future Starts Now
Microsoft CEO, Satya Nadella, welcomes the future of SharePoint
Modern Team Sites - Where Office 365 Groups and Sites joins forces
One of the things I'm personally excited about are the new team sites, and the new "SharePoint Framework" model.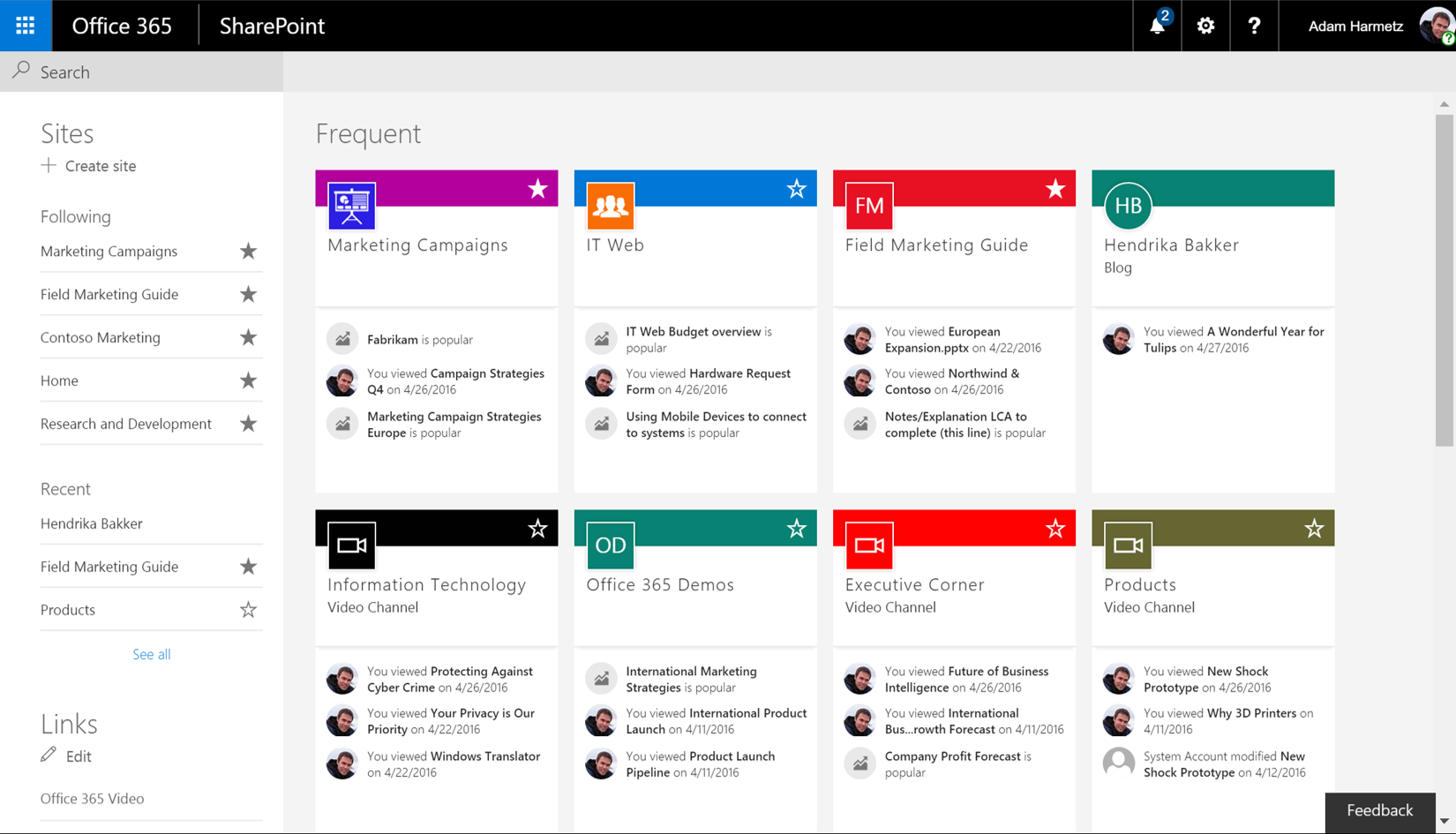 With the recent announcements, one of the key takeaways that is finally happening is the merge of Team Sites and Groups in Office 365.
We're bringing the power of SharePoint team sites and Office 365 Groups together, giving every group a team site, and giving team sites the benefit of groups for simple management of membership across Office 365 services. If you are assembling a team or starting a project, you can create a team site from the SharePoint home and provision a corresponding Office 365 Group in just seconds, with integrated information classification and compliance.
-Jeff Teper, corporate vice president OneDrive and SharePoint
The new Team Sites are, by the way, fully mobile friendly and look really great. Here's a preview of what they look like:

Oh, and the modern Team Sites are powered by the SharePoint Framework!
What do I personally think about the SharePoint Framework?
One word: Wow!
That's not me riding the wave of awesome. That's an honest appreciation of what they're cooking at Microsoft. Since I've been privileged to get some preview insights into these new team sites through our involvement in the Dev Kitchen recently, I can genuinely say I'm impressed with the direction things are heading.
The new SharePoint Framework will play an important part of building solutions on top of SharePoint moving forward, which will be covered in a separate post, and the fact that Microsoft is embracing the existing ecosystem of open source development tools and patterns makes me a very happy developer.
Since the new Modern Team Sites are built on top of the new SharePoint Framework, you'd be glad to invest time into learning more about what it has to offer. You can build SharePoint Framework solutions both for your classic and modern sites, but classic solutions only work on the classic sites.
Microsoft Flow & PowerApps integration
Just last week, Microsoft announced Microsoft Flow.
It's a perfect way to automate tasks, and could be seen as a competitor to IFTTT which is already highly popular.
Not long ago, Microsoft announced the public preview of Microsoft PowerApps, which is a powerful way to quickly build applications without writing code, and connecting them to different services and systems.
At today's event, Microsoft now announced that PowerApps is also being integrated into the new Team Sites!
PowerApps is also being integrated directly into the modern team site, so you can create cross-platform PowerApps that utilize SharePoint lists and libraries as a data source. Deep and native integration of PowerApps and SharePoint will also drive rich new experiences with lists and libraries
-Jeff Teper, corporate vice president OneDrive and SharePoint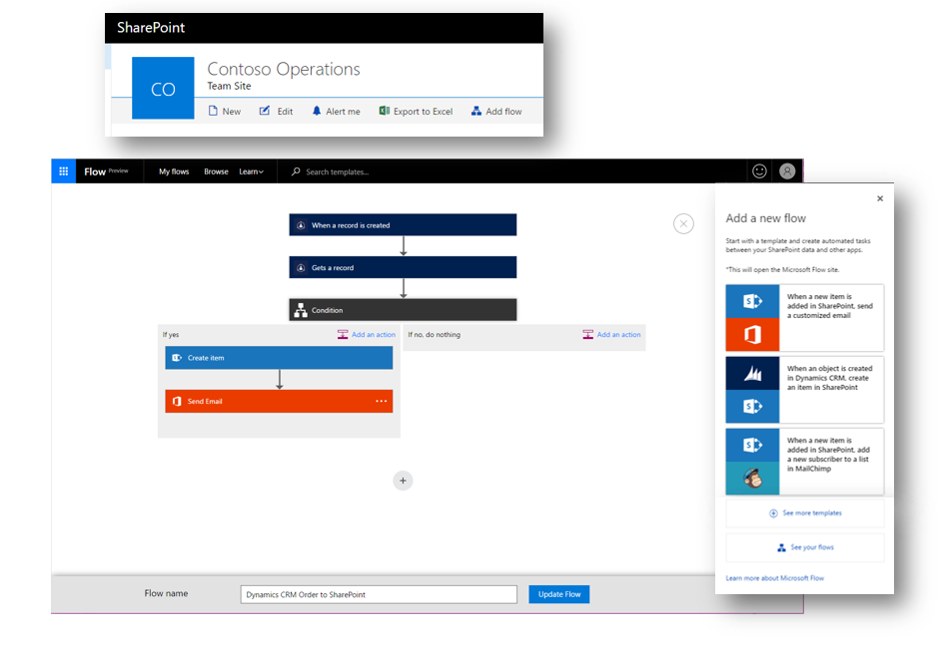 What do I personally think about the Microsoft Flow & PowerApps integration?
This is an interesting evolution of how to build powerful applications without writing code. With the adoption of the event-based connectors and similarities with IFTTT, I think this is definitely a step in the right direction.
For business productivity it makes a lot of sense to simply be able to make a few configurations and connect your application to any of the available connectors. Now, with the integration between Flow and PowerApps, that just gets a bit more powerful.
Summary
It's very exciting times ahead, and what you've read today is only a taste of what's to come. There's plenty of great things cooking at the Microsoft HQ, and I'm looking forward to keep being a part of this great ecosystem!
References and links:
---